Jet Ski Rental Agreement, Terms of Use, and Release of Liability
Terms of use
Renters must agree to abide by the following terms at all times during the rental period.
Qualified to Participate. Renter agrees, acknowledges, and represents that he/she is a good swimmer, is qualified, in good health, in proper physical condition to participate in this activity or in any activity arising from renting the Watercraft.
Acceptable Use. Renter agrees and acknowledges that he/she will be the sole operator of the Craft, and will use the Craft in a careful, safe, and conscientious manner. Renter shall at all times observe and adhere to any rules and guidelines posted by Company, and any applicable laws or
Boundaries: Renter agrees to operate the Craft within the designated boundaries set forth by Gettin' Salty Watersports Inc. These are given verbally and will be
Prohibited Activities. The Company reserves the right to cancel this rental agreement immediately if Renter engages in any prohibited Renter shall not violate any of the following rules and regulations during his/her operation of the Craft:
There are no additional passengers or additional drivers permitted on the Craft unless expressly permitted by Company in writing prior to
CAUSING WAKE IN THE MARINA
Leaving the designated rental area
Operating less than 100 ft from other watercrafts or people or
Weaving through congested traffic
ROLLING OR SUBMERGING CRAFT
There is no smoking while on the
Never operate the craft while consuming alcoholic beverages or taking drugs. The Company reserves the right to inspect any coolers, bags or other containers belonging to the
There are no pets permitted on the
There is no fishing permitted from the Craft, and no swimming permitted for Renter during use of the
There is no docking of the Craft at any location other than the Company's designated docking area, except in the case of
Age. Minimum age to drive the Craft must be at least 18 years of age with a Texas Boaters Permit, however the Renter must be at least 21 years of age to rent the Craft.
Boaters License: Renter acknowledges that they have obtained a temporary or a regular Texas Boaters license, in conformance with the appropriate regulations & requirements, if they are renting and operating a jet-ski.
Unsafe Use. If at any time, the Company determines that Renter has engaged in an unsafe or hazardous use of the Craft, Company may immediately terminate the rental. Upon notification of termination, Renter must return the Craft to the designated docking area immediately. If the rental is terminated for unsafe or hazardous use, Renter will not be refunded his/her security deposit. Company shall determine, in its sole discretion, whether any behavior or activity is "unsafe or hazardous."
Condition of Craft upon Return / Damages. Renter shall return the craft in good working order and condition, at the end of the rental. If any equipment has been lost or damaged, Renter shall inform the company Staff member upon return. Renter shall be financially responsible for all lost or damaged equipment or damage to the Craft. The company will charge the Renter for loss of damaged equipment to the credit card on file according to the attached table of repairs. (please see page 7)
Late Return. If Renter returns the Craft to the designated docking area more than 10 minutes after scheduled "Time In", renter agrees to be charged another hour at our normal hourly rate. If Renter returns the Craft more than 20 minutes after the scheduled "Time In," Renter shall forfeit his/her security
Cancellations. The company reserves the right to cancel due to inclement or impending bad weather. A full refund will be given if we cancel due to weather conditions. If the renter cancels less than 48 hrs. in advance, no refund will be given. You may be able to rebook for another.
If cancellation is due to the renter's failure to abide by our terms and conditions or late/no shows, this agreement will be immediately cancelled, and no refunds will be given.
Release of liability, assumption of risk, waiver of claims and indemnification agreement
Notice - By signing this document you may be waiving certain legal rights, including the right to sue.
A. Lessee agrees to RELEASE, REMISE, AND DISCHARGE, Gettin' Salty Watersports Inc., the owners, employees, and officers (hereinafter referred to as "releasees"), from all liability to me, my personal representatives, heirs, next of kin, administrators, successors, and assigns, and for any and all loss or damage, any claims or demands on account of injury to me or any other person, whether or not the injury results in death, or damage to any property whether or not the property is owned by me, arising from, or in any way related to my presence on the premises occupied by Jet Ski Express and/or my participation in any activities sponsored by Jet Ski Express.
INCLUDING, WITHOUT LIMITATION, LOSS, DAMAGE, INJURY, DEATH, OR PROPERTY DAMAGE CAUSED BY THE RELEASEES' NEGLIGENCE.
B. Lessee AGREES TO INDEMNIFY, DEFEND, AND HOLD HARMLESS AND RELEASES on account of injury to me or to any other person, whether or not the injury results in death, or account of damage to any property, whether or not the property is owned by me, arising from, or related to, my presence on the premises occupied by Gettin' Salty Watersports Inc., whether or not these injuries or damages were caused by the releasees' negligence.
C. Lessee AGREES TO INDEMNIFY, DEFEND, AND HOLD HARMLESS AND RELEASES from any loss, liability, damage, or cost that may incur, including attorneys' fees, arising from, or in any way related to, my presence on the premises occupied by Gettin' Salty Watersports Inc. Lessee acknowledges all responsibility for the safe and proper operation of the personal watercraft and for the safety and welfare of other boaters and persons. It is agreed and understood by Lessee that Gettin' Salty Watersports Inc. and its directors, officers, shareholders, member. Agents, employees, representative, successors and assigns shall not be held liable for damages, inconvenience or time lost caused by accident, breakdown, or malfunction of the personal watercraft. Lessee further agrees to indemnify and hold harmless Gettin' Salty Watersports Inc. And its directors, officers, shareholder, member, agents, employees, representative, successors and assigns from and against any and all claims or loss or damage to property or injuries to persons (including death) resulting through the use, operation, or possession of the personal watercraft. Lessee further agrees to release and hold Gettin' Salty Watersports Inc. and its respective directors, officers, shareholders, members, agents, employees, representative, successors and assigns harmless should loss or damage occur to any Lessee's personal property while carried in or on the personal watercraft or while in Gettin' Salty Watersports Inc. possession, including loss or damage caused by fire, water, theft, and any cause whatsoever.
D. Lessee ASSUMES THE RISK OF BODILY INJURY, DEATH, OR PERMANENT DAMAGE, whether due to the negligence of RELEASEES negligence, my negligence, or any other reason or factor, while upon the premises, while operating a PWC rented from or owned by Gettin' Salty Watersports Inc., and/or while participating in any activities sponsored by Gettin' Salty Watersports Inc.
E. ACKNOWLEDGMENT OF RISKS. Lessee acknowledges that some, but not all, of the risks of participating in the watersport activity include: (1)changing water flow tides, currents, wave action and ships' wakes. (2) collision with any of the following: other participants' watercraft, other watercraft and manmade or natural objects. (3) wind shear, inclement weather, lightning, variances and extremes of wind, weather, and temperature. (4)Lessee sense of balance, physical coordination, ability to operate equipment, swim and/or follow directions. (5)collision, capsizing, sinking or other hazard which results in wetness, injury exposure to the elements, hypothermia, and/or drowning. (6) the presence of insects and marine life forms. (7)equipment failure or operator error. (8)heat or sun related injuries or illnesses, including sunburn, sunstroke, or dehydration. (9)fatigue, chill and/or dizziness which may diminish my/our reaction time and increase the risk of accident.
F. EXPRESS ASSUMPTION OR RISK AND RESPONSIBILITY. Lessee agrees to assume responsibility for all risks of the activity, whether identified above or not (EVEN THOSE RISKS OUT OF THE NEGLIGENCE OF THE RELEASEES NAMED BELOW). Lessee's participation in the activity is purely voluntary. Lessee assumes full responsibility for himself/herself and any of his/her minor children for whom he/she is responsible, for any bodily injury, accident, illness, paralysis, death, loss of personal property and expenses thereof as a result in any accident which may occur while Lessee participates in the activity (EVEN IF CAUSED, IN WHOLE OR IN PART, BY THE NEGLIGENCE OF THE RELEASEES NAMED BELOW).
G. RELEASE OF LIABILITY. Lessee hereby releases Gettin' Salty Watersports Inc., its principals, directors, officers, agents, employees and volunteers, their insurers, individually and each and every land owner, municipal and/or government agency upon whose property an activity is conducted ("owner") and their insurers, if any, (collectively "Releasees") FROM ANY AND ALL LIABILITY OF ANY NATURE FOR ANY AND ALL INJURY OR DAMAGE (INCLUDING DEATH) TO LESSEE OR LESSEE'S MINOR CHILDREN AND OF OTHER PERSONS as a result of Lessee's participation in any activity EVEN IF CAUSED BY THE NEGLIGENCE OF ANY OF THE RELEASEES NAMED ABOVE, OR ANY OTHER PERSON (INCLUDING LESSEE).
H. Lessee has carefully read the Agreement pertaining to the ASSUMPTION AND ACKNOWLEDGEMENT OF RISKS AND RELEASE OF LIABILITY. Those provisions are incorporated herein by reference as if set forth in full. LESSEE HEREBY REPRESENTS AND CERTIFIES THAT HE/SHE HAS READ THE ASSUMPTION AND ACKNOWLEDGMENT OF RISKS AND RELEASE OF LIABILITY PROVISIONS AND THAT HE/SHE UNDERSTANDS THAT BY SIGNING THIS DOCUMENT HE/SHE IS WAIVING VALUABLE LEGAL RIGHTS INCLUDING ANY AND ALL RIGHTS THAT HE/SHE MAY HAVE Gettin' Salty Watersports Inc., AND ITS EMPLOYEES, AGENTS, SERVANTS OR ASSIGNS and any officer of the company either dividually or. Lessee enters into this Agreement for himself/herself and for any minor children for whom he/she is parent, legal guardian or otherwise responsible.
I. Lessee understands that there is a strict NO WAKE ZONE inside of the Marina. This will be from departure dockside to arriving upon return to the buoy.  It is not acceptable for any reason or any time to exceed 3MPH or have a wake behind the rented watercraft. To allow our riders maximum ride time we have adjusted departure and arrival times. Riders will be allotted 15 minutes prior and upon return of your appointment time to safely travel through the NO WAKE zone (i.e., if you have the allotted time 10:00am to 11:00am, you will depart at 9:45am and return to the buoy at 11:00am returning to dockside at 11:15am) The entire ride will be terminated for the rider and passenger if there is a violation of the no wake zone. Once ride is terminated an additional $150.00 wake violation fee will be charged to the renter's security deposit. The rider will also assume all responsibilities of any tickets given by the coast guard or water authority at the time. We expect all riders as well as passengers to respect the marina and their rules at all times.
I HAVE READ AND UNDERSTAND THE AGREEMENT AND I AM AWARE THAT BY SIGNING AGREEMENT I MAY BE WAIVING CERTAIN LEGAL RIGHTS, INCLUDING THE RIGHT TO SUE.
In signing below, I certify that I am at least 21 years of age for a jet ski rental and that I have fully read and understand all the terms, conditions and rules set forth above, and agree to all terms without reservation. I am voluntarily making this release and waiver of any liability for myself or a participant for whom I am legally responsible.
In signing below, I also acknowledge and fully understand the form titled "Safety Instructions & Regulations". I acknowledge that I understand the safety instructions for personal watercraft operation as well as my financial obligations for responsible watercraft rental for myself or a participant for whom I am legally responsible.
Watercraft safety instructions and regulations
Operator and passengers must wear personal flotation devices at all times!
NEVER OPERATE THE WATERCRAFT WHILE OR AFTER CONSUMING ALCHOHOL OR TAKING DRUGS. OPERATING A WATERCRAFT UNDER THE INFLUENS IS A FEDERAL OFFENSE SUBJECT TO FINES AS HIGH AS $5,000.00.
Stay away from designated swim areas and other hazards marked by orange and white buoys. Always watch for swimmers or divers.
Keep to the right when exiting the Marina until you are in open waters.
Always maintain proper lookout by sight and hearing to avoid collision.
Always be aware of the traffic around you. Sailboats, commercial vessels & all other boats have the right of way. You must keep out of their way at all times and avoid crossing ahead of the other vessel. Take early and substantial action to keep well You can change course, slow down or stop if necessary, to avoid collision. Pass at a safe distance. If a head on situation is arising, unless otherwise agreed, each shall alter course to starboard (right) and pass on the port (left) side of the other.
Wake jumping is extremely dangerous and is prohibited.
Follow local regulations regarding speed limits, whether posted or not. The Geneva Marina is a NO WAKE ZONE. YOU ARE RESPONSIBLE FOR ANY AND ALL DAMAGES/OR FINES THAT ARE A RESULT OF YOUR WAKE!
We have equipped all of our Jet-Skis with IBR-Intelligent Brake and Reverse Systems, with your safety in mind. You will still have to allow yourself time and distance to slow down or stop.
You must use the throttle to turn. The jet thrust is what makes you turn.
Jet-Ski's are in motion at all times, there is no neutral position.
Watch for low water, you can damage the jet pump and impeller of a Jet-Ski and the fins of SUP's.
Driver should always attach the engine stop switch to their Life Vest so that the engine stops if the driver falls off.
Do not put hands, feet, or clothing near the jet intake on the bottom of the Jet-Ski while the engine is running.
To turn the Jet-Ski to its upright position, you must rotate it CLOCKWISE by body weight bearing on the right side and grabbing the intake grate to complete the clockwise rotation. The Jet-Ski will be severely damaged if you do not turn it over in a clockwise rotation.
If you fall off, board from the rear of the Jet-Ski. Use the rear grab handle to pull your knees to the platform. Then pull yourself forward using the handlebar to maintain balance. Passengers should climb on in the same way after the driver is on board. Reconnect safety switch and restart the engine.
ABSOLUTELY NO BEACHING OF THE WATERCRAFT IS ALLOWED.
You must stay away at least 300 ft. from all other Jet-Skies or Watercrafts!
DO NOT BECOME AIRBORNE.
Table of Repairs
Compartment Hood $ 250
Windscreen $25
Key $55
Reverse Lever $30
Rear Rub-rail $85
Corner Rub-rail $15
OPAS Paddle $45
Sponson $95
Decal $20
Side Rub-rail $105
Front Rub-rail $40
Other:
Impeller $250.00
Wear Ring $95.00
Rear Entry Step 175.00
Gator Grips $75.00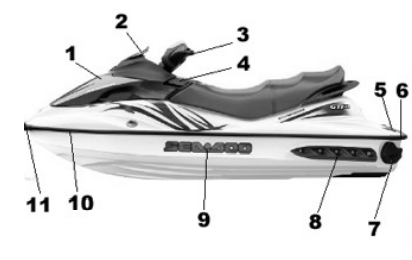 Rules For Riding
- You must follow the Instructions of the Jet Ski Guide at all times.
-You must wear a Life vest at all times.
-You must have a Lanyard attached to wrist and Kill switch of Jet Ski at all times.
-You must obey "No Wake Zones" at all times.
-You always look around before you turn. No sharp turns. No reckless operation is allowed. No splashing other boaters or skis. No jumping wakes of other boaters.
-You must not ride ski within 100 feet of a dock or moored vessel/ boat.
-You must not be under the influence of drugs or alcohol. Pregnant women, or persons with bad backs or Heart conditions cannot rent skis. Jet ski must be boarded from the rear. Jet ski has no brakes.
-You must be 100 Feet from another ski/ boat/ ship/ docks/ land at all times.
Safety first!!! Any Violations of these rules will result in termination of the ride and no refund.
By signing this I agree that I have read and agree to the charges of all the repair rates for any damage to the rental jet ski(s) while in my possession. I also agree I have inspected the jet ski myself and everything looks in good operable condition. I agree that signing on behalf of all the rental(s) I am responsible for the maintenance if there is any damage has occurred.